Wake your own creative side with a unique, fun, and casual gaming experience. Nintendo could not have released Animal Crossing: New Horizons at a better time; since it allowed players to experience social normality. Considering there are limited options for living normally in a pandemic, it will be a huge relief even for non-gamers. The worth of Animal Crossing lies within its range of features, items as well as the number of other villagers players can engage with. Compared to the other games released in the same year, Animal Crossing has a simple design. However, the game offers a place for players to be free to create and engage. That means the game will become your personal space to build. You can start and finish many games in a week or month but Animal Crossing will always be there for you to carry your imagination to reality.
Get Creative Without Holding Back
Nintendo intends you to explore, create, and customize an island. Natural sources are at your disposal to craft everything from tools to creature comforts. Time of day and season match real life, so each day is a chance to check-in and finds new surprises. The player character is a human who lives in a village inhabited by anthropomorphic animals. The series uses the Nintendo 64's internal clock and calendar to simulate the actual passage of time. The game gained success in terms of critically and commercially and has sold over 60 million units worldwide. When you share your island with charming animal residents, every day brings new surprises. Select a location for them to build their tent, talk to them anytime you like, and build your community at your pace. You can show off your island utopia to family and friends. Friendly faces like Tom Nook and Isabelle will gladly offer a hand and assist you in growing your developing town.
Ultimate Realism, Real-Time Experience
There are tons of things to do on the island. To do these, you need to collect the necessary materials from around. Time management relatively is quite essential, too. Because depending on the time phenomenon in the game, the ecology changes, and you witness how different things can become. All kinds of fish, butterflies, and beetles emerge at particular times and seasons. Likewise, you can see how specific events can occur on the island depending on whether you enter during the day or night. Although your daily activities in Animal Crossing do not take much of your time, you should not neglect your island and neighbors. Of course, you can travel to different islands, even to the islands of other players, to improve the order on the island.
Discover, Gather and Create!
Craft system also formed as the backbone of the game. You apply to the crafting system both to reveal all these items and for tools such as fishing rods, axes, shovels that come to your aid in daily use. In the beginning, you can collect only a handful of items. As you progress, the number of items increases. That also means you will have more options to craft something. Thanks to the improvements, you will make nearly anything on the island. You start with only cherry trees. Along with other players and their island visits, you can plant peach, apple, and even coconut trees on the island. Likewise, it is possible to communicate with NPC characters and other players. You can invite them to your island and offer them the fruits you collect, show off the fossils you discovered in the museum or enjoy the moonlight together by the fire.
Why You Should Play Animal Crossing: New Horizons?
The beauty of the visual structure of the games is quite appealing. Colorful characters and the feeling of a living world are among the favorite points of the game. In the game where animals gain personality, you can customize your character and at the same time witness how much the island can change. You have a chance to establish a personal space that will serve as a gateway since you can customize anything on the island for your personal taste. Animal Crossing has never been a rushed game. So, take your time to create a more beautiful environment too. Animal Crossing New Horizons has become a must-have game for every Switch owner. Endless opportunities are waiting for you! You can build your community from scratch on a deserted island brimming with full of possibilities. There are so many topics to talk about in the game, such as Nook Miles, the gift system, and the online infrastructure, that words are not enough to describe them all. Animal Crossing opens the doors to a whole new life. Take a chance to relieve yourself in a virtual space of your creation and experience the limitless joy of creating something for yourself.
WallPaper Collection of Animal Crossing: New Horizons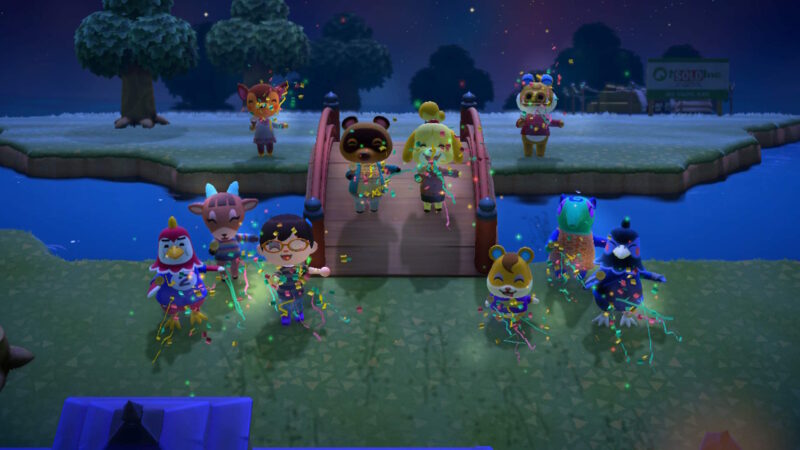 Animal Crossing New Horizons New Tab Extension
Unfortunately, we didn't make the extension yet but we want to, you can subscribe our newsletter to get notifications when we release the extension or any other stuff.
Copyright Notice
We are gathering medias from the web that are available on other websites. If you are one the creator of the images or if you are copyright owner of Animal Crossing New Horizons and want to get removed this blog post and WallPaper Collection from our web site, please, feel free to contact us by using the link. Otherwise thank you for letting us to publishing your slender labor on our website.