The legendary epic gaming franchise Mario is available on your smartphones now. Plus, with few changes and more excitement! Our little savior, Mario, became a car driver and race in this version. If you like the racing game concept or Go Kart, we suggest you have a look at this game. By the way, we designed a great Mario Kart World Tour wallpaper collection and addon for you as well. Before getting into our features, you can find a variety of information about the game in our blog post here.
New Generation Mario: Kart Tour
Mario Kart Tour, developed by Nintendo, is based on Go-Kart style car racing. The game is free however, there is a subscription option for a small fee as well. Mario Kart Tour is available for PC as well but, you have to download BlueStacks first. The game presents two modes: single-player and multiplayer. The other players, your opponents in this case, in Mario Kart Tour are artificial computer intelligence. Of course, it does not affect the excitement of the game.
The Real 3D Cities in the Mario Kart World Tour Wallpaper Collection
Reaching the finish line first is the main purpose of Mario Kart Tour, just as in the classic racing games. However, what makes Mario Kart Tour unique from the other car racing games is the "tours" which name after the real cities around the world. If you want to see these cities in 3D for your new tabs, there are tons of images in our Mario Kart wallpaper collection. Tour in each city lasts two weeks. Players compete and win some rewards such as a new driver or new karts designed with the theme of the tour. After finishing a race, the players are going to be awarded Grand Stars, which can be used to unlock tour gifts. The top three players will be awarded with more exclusive awards.
A New Year Feature: Kadomatsu
The recently introduced feature in the game is the Kadomatsu. It is a traditional decoration similar to a Christmas tree in some ways. Japanese people use it for the celebrate New Year. All you have to do is hit them three times during the racing. It sounds easy, right? But not at all. You need an item to hit Kadomatsu, it does not count if you only smash it. If you can manage to hit, then you are going to receive a 'Happy New Year' message. Over the course of Tokyo Blur 2, Kadomatsu's are generally placed in front of the houses, be sure not to overlook them!
Mario Kart Tour WallPaper Collection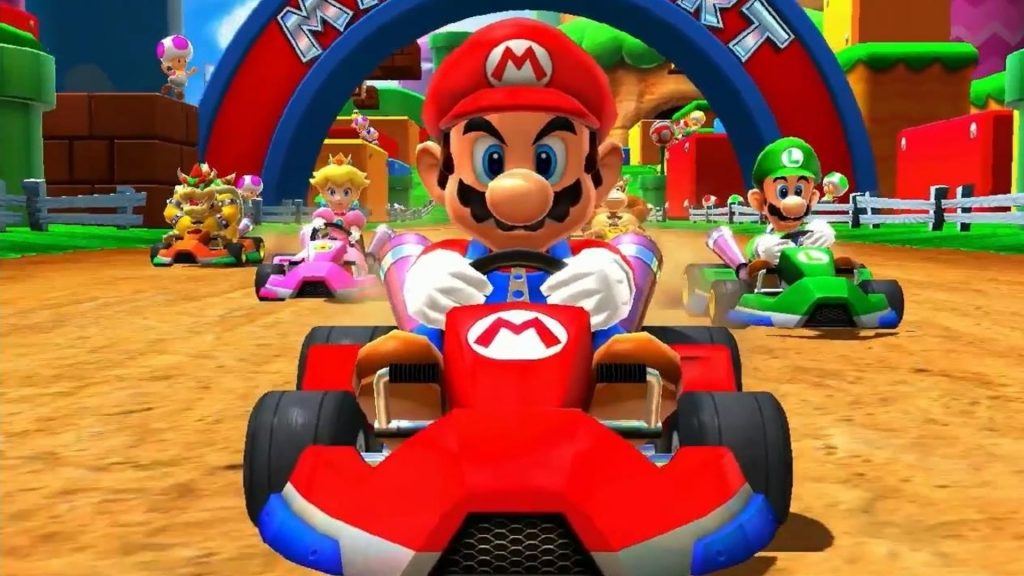 Mario Kart Tour Addon Brings Mario Experience to Your Browser
Mario Kart Tour will bring you such joy that it will make you forget all the things happening around you. And we, with our Mario Kart Tour Wallpapers and Addon, are hoping to increase this joy to a great extent. Let's see the features together:
We present you a large collection of wallpapers designed for Mario Kart Tour from which you can choose one and set it as your background. The collection includes the cities you are racing and the other concepts that you customize your character and vehicle.
There will be a shuffle option for your wallpapers as soon as we develop it.
To make your search easier, we enable you to a search bar.
If you are looking for popular pages and websites, you can use our sticky links to be directed to them.
From the "Popular Pages" section, you can reach our gaming site to have more fun.
Moreover, we have an option to uninstall, so if you do not like the addon you choose you can remove it via the "Remove from Chrome" option.
You can always reach out to us, as soon as you come up with an idea to improve our addon features.
There is a blog here to show the new concepts of another old classic: Pokemon! https://www.wallpaperation.com/anime/pokemon-wallpapers-collection-and-addons/