Elevate Your Surfing Experience and Browser
Microsoft Flight Simulator is a game that allows you to choose your favorite airplane and fly all over the world. One of the best simulator games created for people who interested in piloting is gamers. The heavily detailed cockpit design, realistic physics and atmospheric conditions will create an almost real-time piloting experience. We will try to tell you the thrilling features of the game in this blog post. Also the Microsoft Flight Simulator wallpaper collection and addon is here for you to discover.
Highly Detailed Microsoft Flight Simulator Wallpapers
More than 25 airplanes are available in the game. The variety of those planes are satisfying as well. From huge to relatively small there are many planes for different purposes. You can also see the further details of these airplanes in our Microsoft Flight Simulator wallpaper collection. Each one of them is detailed. In terms mobility, airplanes shows different reactions according to pilot's maneuvers. For example, if you are flying a small airplane, your plane will react to your turning movements as soon as you begin to turn your plane. However, while maneuvering bigger planes, you have to think about physics more carefully. Otherwise, you will crash. Besides those micro features, the multiplayer mode is available for those who want to simulate their flies in realism. For the ones who do not want to deal with people, the AI option is available as well.
New Mapping Technology Creates Perfect Simulation
Game's new mapping system uses Bing Maps to create and simulate the whole world. That means a perfect virtual world for the ones who desire to see our world in games. Developers also created and designed the world's most known structures like Eiffel Tower and landscapes. With this system, almost all cities live within that game. You can witness their realistic copies. Another optional setting is the experience day-night cycle. If you are playing the game at night, the game will be simulated at night as well. You can set the desired time of day or weather from settings as well. This system also provides a randomized but realistic landscape of the other parts of the earth like Amazons or huge deserts like Sahara.
There is More to Flying Airplanes
If you have concerns about playing a game that is hard to handle, the Microsoft Flight Simulator provides a training mode to teach you how to use the instruments of the game. You can choose different scenarios from how to lift off, how to maneuver and how to land. After long hours of wandering from one city to another, you can be bored. Do not worry! The game has challenge mods that create more fun. Landing a damaged plane, flying in harsh weather, or both included in those challenges. The combination of all of these features with breathtaking graphics creates a perfect game that leads you to enjoyable times.
Microsoft Flight Simulator Wallpaper Collection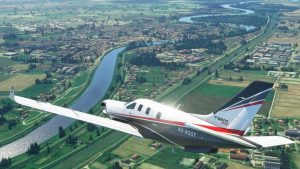 Use our Microsoft Flight Simulator Add-ons
Microsoft Flight Simulator offers you the perfect experience that you will taste you have never before. You can always be in touch with that marvelous game by installing our addon. Magnificent landscapes and your favorite airplanes will be there with you all time. Our addon contains user-friendly features. A few features of this addon are;
Select a wallpaper from a well-selected collection of Microsoft Flight Simulator wallpapers and it will be displayed in your browser, it will be your favorite
A fixed wallpaper will be displayed on your browser unless you remove it from settings, shuffling feature will be added in future
You can be able to reach the most popular web sites with one click with this add-on
With the ''Popular Pages'' feature, you will find exciting and thrilling web games that you will absolutely enjoy.
You can be aware of the time by our date clock while wandering on the internet.
Besides, removing this add-on is possible with one click on the Microsoft Flight Simulator icon but you can always let us know any issues that you faced with our add-on before deleting it.
Take look at our Pokemon blog post if you have time: https://www.wallpaperation.com/anime/pokemon-wallpapers-collection-and-addons/