It is safe to say that Skyrim is a magnificent piece of art as a game. It offers hours of gameplay time with highly detailed main and side missions. It's almost flawless atmospheric structure absolutely will bond itself to you and lock you up to your monitor. Besides, other RPG elements of the game will never bore you and you will always find a task to do. We tried to emphasize the important things about the game in our article and tell about our addon and Skyrim wallpaper collection.
Entertain Yourself with Variety of Missions and Skyrim Wallpaper Collection
Skyrim's missions are a perfect example of other RPG games. Besides the main story, its side missions are still remaining flawless and thrilling. For example; you can destroy crime organizations to help NPCs. You can also join a various number of guilds that will help you to improve your skills. Along with the missions you have a chance to earn vital and powerful items. Almost every character within a guild has their mission tree. Unlike some other games, you can fail at those missions as well. This additional missions feature adds extra fun to Skyrim.
Focus on Whatever You Want and Be a Master at
A huge variety of skills that you can master will occupy you for long hours. You can master any of those skills to boost your fighting methods. If you want to be a chivalric warrior, you can focus on two-handed weapons, heavy armor and block skills and be an indestructible character. You can also focus on one-handed weapons, light armor and archery to apply hit and run tactics against your enemies. Your skills will upgrade as you progress in the game. You will not be a stranger to those skills and weapons because of that.
Massive, Brilliant and Mysterious Skyrim Realm Waiting to be Discovered
Wander on a massive map with a breathtaking atmosphere. Skyrim offers you a thrilling adventure on its map. So called Skyrim province of the continent is vast and full of mountains. Besides its geographical situation, it includes four seasons too. Skyrim's mission structure has used this map almost in a perfect way. Every detail on the map has a particular use. Mixing these aspects of the map with Skyrim's scary, dark but curious atmosphere, you will not get bored for sure. All these aside, a massive number of caves and dungeons boost that atmosphere. Ruins of a the Elven race and lairs of mysterious beasts that are waiting for you to discover.
Skyrim Wallpaper Collection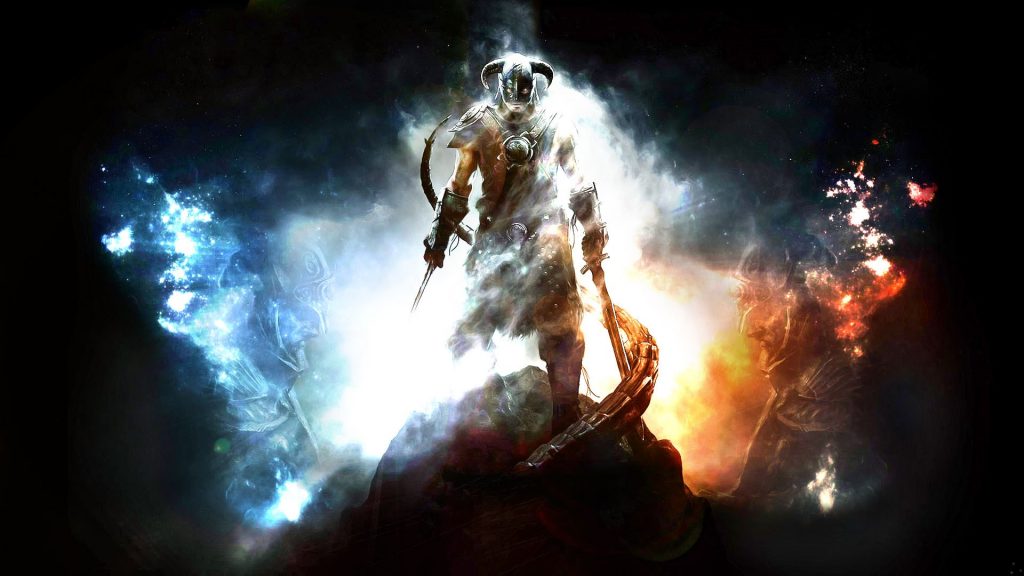 Install Our Skyrim Addon
Elder Scrolls: Skyrim left its mark on the gaming industry and still maintains its position. If you want to be a part of it and feel the game all the time, install our Skyrim wallpaper collection and addon. Exclusive wallpapers will be a perfect fit for your browser. Our addon will make your surfing experience way easier than before. Some of the features that our addon has are;
Choose a wallpaper that you will always want to see for your tabs. It will be fixed until you remove or change it.
Chosen wallpaper will stay there and never change by itself until you decide to change it. It is possible to remove it from settings, the shuffle feature will be here soon.
Popular web sites will be displayed on our stick links.
''Popular Pages'' feature of our add on includes entertaining and exciting games that you will love
You will always be aware of time with the date and clock feature.
Lastly, you can remove this add on easily by clicking the Skyrim icon on your browser but, if you any issues, you can always keep in touch with us
Check out our The Witcher 3 blog post to discover another great adventure! https://www.wallpaperation.com/games/the-withcer-3-wallpaper-collection-and-addons/